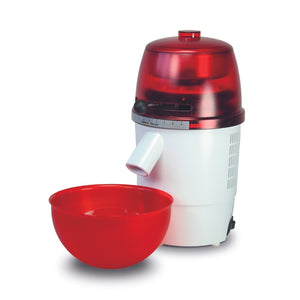 Novum grain mill with corundum ceramic stone grinder spice mill
$32600

$326.00
Tax included.
Shipping
calculated at checkout.
---
---
Rock solid stability!
This grain mill offers maximum performance for the demanding household. Thanks to extremely hard special stones made of corundum ceramic with a diameter of 100 mm and a powerful 360 watt industrial motor, the Novum clearly stands out from other grain mills. The material to be ground is protected during grinding due to the low level of heating, which means that the important vital substances are retained. The grinding performance speaks for itself with 125g of fine flour per minute. Depending on how coarse the grinding is, it increases to about 300 to 350 g per minute on the coarsest setting. Thanks to the generous hopper capacity of 600 g, even large quantities of grain can be ground in no time.
LOOK AT THE TECHNOLOGY:
Endurance test and very quiet operating noise
Switch with motor protection function
Elastically mounted precision grinder
Grinding stones made of corundum ceramic with a diameter of 100 mm
Housing

made of impact-resistant and non-slip

plastic (makrolom)

Milling capacity (wheat)

-fine approx. 125 g/min, -coarse approx. 250-300 g/min
Hopper capacity (wheat)

about 600g
Grinding stone ø (corundum ceramic)

100 mm grinder bearing

Elastic bearing, therefore very quiet grinding
particularities

one-hand operation

Approx. weight:

7.0 kg
engine power

360W/ 230V
Support height for bowl

16 cm
Dimensions W x H x D in cm:

 

20.5x38.5x26
FEATURES--- suitable for grinding:
all types of soft wheat such as spelt, rye or grain
all types of durum wheat such as millet, corn, rice
Spices such as pepper, paprika or mustard seeds
Legumes such as chickpeas, beans or peas
roasted seeds such as coffee beans
Not suitable for grinding oily seeds!!!

Scope of delivery:
Novum grain mill with corundum ceramic stone grinder

shapely, practical plastic bowl
---
We Also Recommend
---