---
A popular all-rounder for all occasions! - Jupiter "mySystem"
For more than 100 years, Jupiter has had traditional hand-held devices that actively support you in cooking and baking. Process vegetables, fruit, meat, cheese, nuts, etc. With just one basic device, you create countless possibilities and have a multitude
of extensions and attachments, an absolute all-rounder in your kitchen!
mySystem --- The basis is a drive that you can convert into up to five different devices by simply changing the attachment.
Whether vegetable grater, universal grinder or grain mill - there are no limits to your creativity and your wishes! Simply swap the attachments and experience maximum freshness and flexibility in your kitchen.
---
Jupiter kitchen machines cordless hand blender hand blender, hand blender, magic wand
---
Jupiter hand food slicer with solid wood plate, stainless steel blade, red retro design
---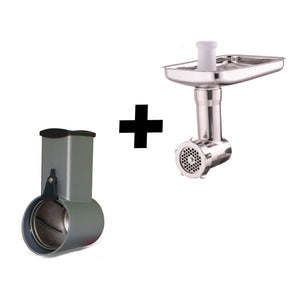 Jupiter original attachments compatible with Smeg & Kenwood (direct connection)
Lassen Sie Kunden für uns sprechen